Bolts Of Hereford are (Level 3) Gold Accredited members of ConstructionLine
Bolts Of Hereford have proudly received the ConstructionLine Gold Certificate accreditation.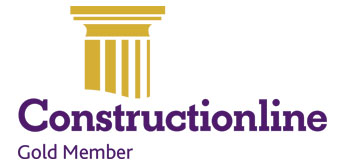 This accreditation is testament to our teams commitment to Health and Safety, project delivery and providing safe working sites.
ConstructionLine is one of the UK's leading supply chain management services.
The Gold (Level 3) accreditation is a process of verifying our company details and the information that we provide.  Covering for examples, Environmental Management, Equalities & Diversity, Quality Management, and our company details and status.
We are proud to have been awarded the ConstructionLine Gold certification.

We hope that this accreditation displays to our potential customers that we are a committed and responsible organisation; and our team is dedicated to carrying out high quality works and meeting industry standards for safety.
If you're looking for a ConstructionLine Gold registered contractor in Hereford, Worcestershire, or the surrounding areas – get in touch!