Partition systems can be installed a variety of styles:
There are many different basic visual style of partition available, but the three most common styles are below.
Solid – This is as simple as it sounds, a solid partition with no windows or glazing in it.
Half glazed -This is a partition that incorporates some glazing, usually a window (or windows) in the partition; these could be a module wide and about door handle to door head high with solid partition below and above this, or just a simple small window.
Fully glazed – This is a full height glazed partition, either formed using a partitioning system with full height window mullions or a premium frameless system incorporating a minimalistic frame with silicon gaskets at the glazing joints.
The styles shown below:

Are finished with paint or vinyl
100mm laminate skirting fitted as standard
Framework available in white, grey or SAA (silver) as a standard, but with any RAL colour possible as a special.
The window modules are available as single glazed, or double glazed, with or without blinds.
Below is an image providing some indicative images of how a partition module can be installed.  From solid, through different styles of half glazed, to fully glazed.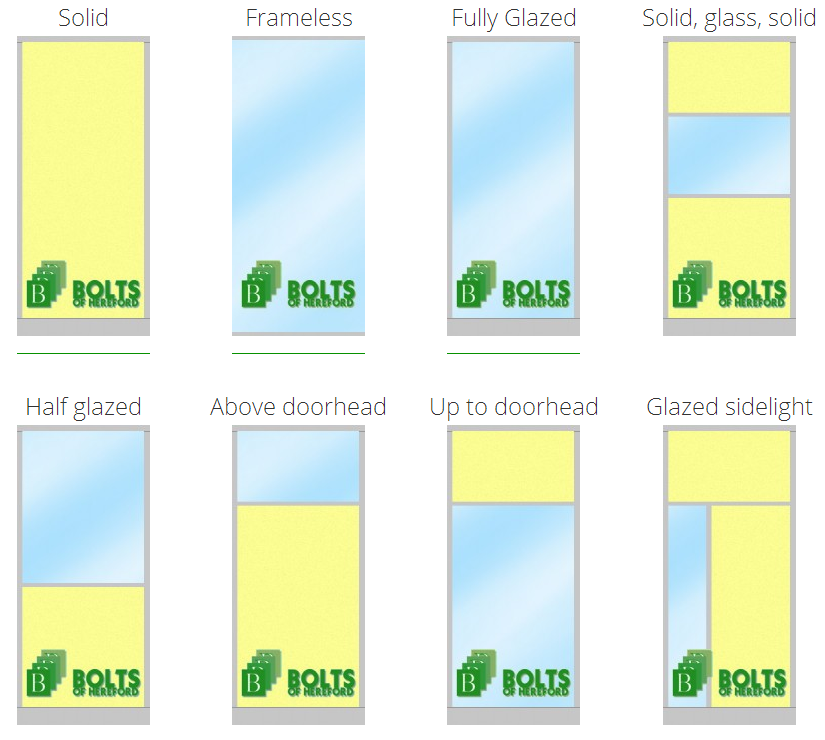 A little about the various options:
Solid :

Offers a wide range of acoustic and fire rating possibilities
Total privacy
Standard choice for dividing up offices

Frameless Glazed :

A modern stylish solution
Allows in the maximum amount of light
Creates an open feel to the workspace
Quick and easy to install, with minimal disruption to your business

Fully Glazed :

Allows light to flood through
Can be fitted with or without blinds to provide privacy
Creates office space without enclosing people

Solid – Glass – Solid :

Allows desks or storage to be placed against partitions.
Provides more scope for installation of power and data points
Solid sections finished in either paint or vinyl
Window can be single or double glazed, with or without blinds

Half Glazed :

Practical because it allows desks or storage to still be placed against the wall
Still provides a lot of light through the window
Can be installed with blinds for privacy
Available as single or double glazed windows
Power or data can be installed to the solid lower section

Above Doorhead :

Provides privacy whilst still allowing light through
Desks and storage can be placed up against the partition

Up To Doorhead :

Carries door head line through which can be aesthetically pleasing
Allows large amounts of light through
Can be install single or double glazed, with or without blinds

Glazed Sidelight :

Allows viewing into an office whilst maintaining aspects of privacy
Still allows light through a partition in a minimal way