Can we help you with office partitioning in Cheltenham?
Straight forward solid partitioning.  Perhaps incorporating double glazed windows with blinds.  Or a completely glass office partition.  We're able to help you with any combination.
We are an experienced contractor, and have carried out a range of installations throughout Cheltenham and the surrounding areas.
We can carry out a complete project for you; building the partitions, hanging any doors or carrying out related joinery work, including any glazing or blinds, ceiling alterations, flooring requirements.  We can bring M&E specialists with us as well if required.
You can also visit our main office partitioning page for some further information on our partitioning services.
Example Projects
Glass Partitioning Installation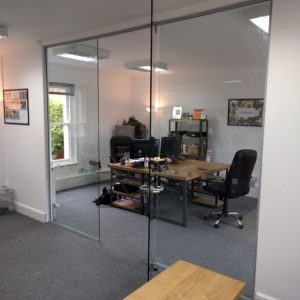 A Cheltenham marketing agency asked us to install a frameless glass partition in their new offices.  It allowed them to create a new office, off to the one side of the main office area.
The installation involved forming a new opening, in an existing partition, ready to receive the frameless.  This involved a few minor electrical works moving some existing power points.
We then installed a full height, 10mm thick toughened glass, partition.  With a full height frameless glass door, with back to back lockable lever handles.
Office Partitioning Installation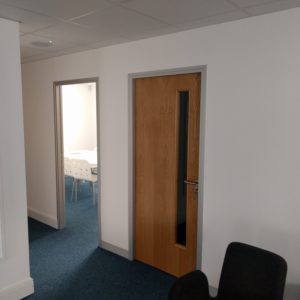 As part of an office refurbishment we installed new office partitioning for a financial company on Lansdown Road in Cheltenham.
The installation covered both solid acoustic partitioning, as well as new offices which had full height double glazed modules with integral blinds.
The glazed modules had silver venetian blinds, with a tilt / turn facility, so that the occupants could create privacy when it was required.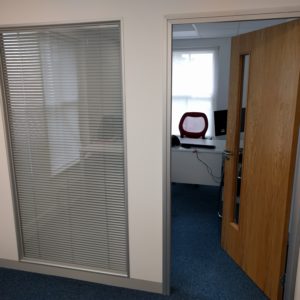 The partitioning system section were finished in SAA (Silver) to fit match the existing installation.
The install turned out to be a real success, blending seamlessly with the existing partitions.
The final offices provided meeting rooms, private offices, a reception area and an open plan office.
As part of this office refurbishment project we also install acoustic suspended ceilings, decorated the offices, fitted new floorings, and installed new LED and emergency lighting throughout.
Partitioning Alterations
We were asked back by a customer to carry out some office alterations for them in their Cheltenham office.  Which included removing some existing partitioning and doors, then forming a new run of partition to create further office space for them.  The work involved electrical alterations, partitioning removal & installation, decorations, flooring , and a small amount of joinery works.
The end result worked really well, utilising dead space to create two new offices.  This furnished the company with extra space with only a minor amount of inconvenience.
Some images of fully glazed partitions in Cheltenham.
Working throughout Cheltenham and the surrounding areas
We work directly for companies, as well as a sub-contractor.
We're able to cover a wide range of partitioning requirements, for example:
Office Partitioning.  Solid, glazed, or frameless glass.
Double glazed partitions, with integral venetian blinds.
Fire rated partitioning.
Acoustic partitioning.
Partition alterations and amendments.
Little or Large
We have the capacity to create single offices, through to large amounts of office space.  We can take empty or tired locations and create new office space, completely ready for occupation; managing all trades if required.
Projects range from installing small screens or doors, up to creating numerous new offices.  Large areas can be divided up with partitioning systems incorporating solid, part glazed, or fully glazed partition systems throughout the Cheltenham area.
If you're looking for something a little more involved, we also carry out complete office refurbishments in Cheltenham, as well as Cheltenham suspended ceilings.