Do you require a suspended ceiling installed in Cheltenham?
Bolts are a reliable ceiling contractor, and we're well versed at working in a very wide range of situations.  We work in and around Cheltenham, installing ceilings and related works (from a single ceiling through to a complete Cheltenham office refurbishment)
Contact Us Today For Some Further Information
We work both directly for Cheltenham businesses, as well as a sub-contractor.  Our projects range in size from a small store room up to 1000+m2 areas.  If you have a specification we can quote against that, or we can propose a ceiling for the environment.
Example Project: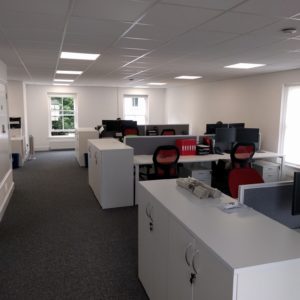 A financial company based on Lansdown Road invited us to quote for various works, which included new suspended ceilings.
We secured the project and proceeded to install new 600×600 acoustic suspended ceilings in their Cheltenham office for them.  The ceilings were installed in a 24mm grid, and alongside the ceiling installation we also worked with our electrical contractor to install new 600×600 LED light and emergency fittings.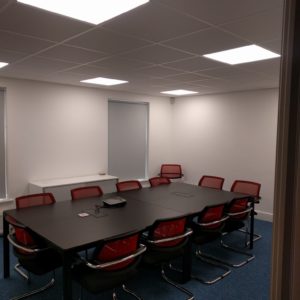 The ceilings and lighting were chosen and designed to be suitable for office environments, and created a clean and clear area for people to work in.
The ceilings were part of a complete refurbishment package where we refurbished the office space for them before they moved in.
Working in Cheltenham and the nearby areas.
We hold our own insurances and are up to date with our health and safety requirements.
We spend our lives working amongst and around people in their working environments; and we're respectful of the fact that you don't want us to interfere with the day to day running of your business, or that of your customer if you are a contractor in Cheltenham.
Written testimonials are available upon request.
We mostly spend our time working in:
Offices
Schools
Shops
Industrial Units / Warehouses
Residential
We've been installing ceilings for over 20 years now, so there aren't many situations we haven't covered.
We install a range of ceilings to suit individual environments:
Acoustic (to help with sound absorption or reduction)
Fire (to provide fire ratings where required)
Open Plan Offices
Single Offices / Meetings Rooms
Classroom
Budget
Hygeinic
We work with a wide range of brands including;
Armstrong
Rockfon
Ecophon
AMF
SAS
Sektor
Others as specification dictates.
If we can help you with a quote or some further information on the range of works we can offer in Cheltenham please do get in touch with us.