Bolts Of Hereford are an Office Refurbishment and Internal Fit Out Contractor


How can we help you?
From:


 Freshening up of your office space with new floorings and ceiling tiles, decorations and lighting.
To:


 Complete fit out or refurbishment works, taking space from a bare shell to fully functioning offices.
We are able to help you with your internal refurbishment or fit out.  There are further example projects at the bottom of this page.
We are an internal refurbishment company who work on internal, office, shop, school, and warehouse refurbishments and fit outs.
Who do we work with?
We work with businesses of all sizes from small local companies to large multi nationals, helping them with everything from refreshing small offices or break areas all the way up to multi floor fit outs of new office blocks.
Our contract values range from a small refresh of around £500 to our largest fit out contract to date of £250,000+.
We used Bolts of Hereford recently as Principal Contractor on a project (ca. £180k) to covert an existing redundant store facility into a working office space for 36 people adjoining our existing offices. Bolts programmed the project superbly, arranging all the building works, full electrical refit and comms. flooring, ceiling and curtain walling. The project had a very tight build time of six weeks and a fixed completion target date. We found Bolts easy to deal with, communicated effectively and ensured that Amey's health and safety requirements were met and ultimately delivered this project for us without fuss and ahead of schedule.

Harry Rouse ICIOB, Building Services Works Manager [formerly Amey (Hereford)].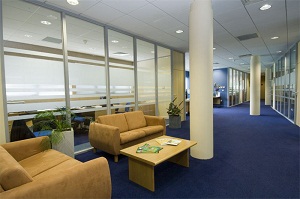 Why should you use us?
We are a company who take pride in ensuring that all our projects and contracts, from small to large, are all taken care of in the same way and the result of this is a reputation for high quality work.
We will complete your work on time and to budget.
We carry all necessary insurances for your piece of mind.
We carry out risk assessments and method statements for your work.
We hold the SAFEContractor Accreditation, have an external H&S Advisor and have an in house SMSTS certificate and are used to complying with site specific rules and regulations.
All operatives are well versed in the use of a vacuum cleaner and leaving our work and your area neat and tidy.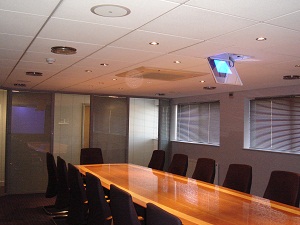 We can offer a complete turn-key solution completely tailored to your needs. Whether you are after a small refresh of an area or a complete office refurbishment covering multiple floors we will guide and advise, liasing with all trades to ensure you have an efficient change.
We are used to working with in live environments and understand the importance of working with you and your staff throughout the whole process.
What can we offer you?
Our years of experience allows us to offer a service which involves total project management. We are able to offer a complete package, including:
Office Refurbishment and Fit Out – A complete service, using trusted tradesmen to offer minimal down time.
Suspended Ceilings – We offer all suspended ceiling systems, whether metal, lay-In, or plasterboard.
Partition Systems – Many different systems including; demountable, track and stud, fully or half glazed.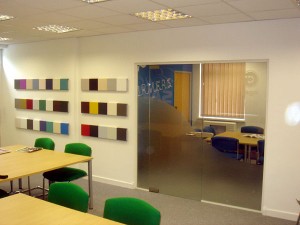 Project Management – We will guide, advise and liase from the feasability meeting all the way through to handover.
Flooring – We can supply and fit; carpet tiles, vinyl, safety flooring, or anti-static flooring.
Joinery – Bespoke joinery pieces such as recepetion desks, door and window linings, and door hanging.
Electrical – Qualified electricians for lighting or power, who can offer a complete design service.
Air Conditioning – A tailored design service with knowledge on the latest systems.
Decorating Work – Making good, vinyl and wallpaper hanging, tiling, taping and jointing, and painting.
Plumbing Works – We use only experienced Gas Safe registered tradesmen.
Office Supplies – We can supply desking, screens, furniture and all your other needs.
Some information about us:
We are a family run business based in Hereford in the West Midlands and have over 30 years of experience in the interiors trades.
We pride ourselves on giving a personal and professional service at all times and our years of experience in the internal refurbishment trade gives us the knowledge to take on any job with confidence, giving a personal and professional service at all times. This period has given us many contacts in almost every trade, allowing us to offer a full and complete service, all installed by qualified professionals.
We primarily work throughout the Herefordshire and Worcestershire areas, covering for example Hereford, Worcester, Ledbury, Ross-on-Wye, Malvern, Monmouth, Leominster, Bromyard, and also into the Gloucester, Gloucestershire, Cheltenham, Evesham, Ludlow and Pershore areas.  We do work further afield though, so please do ask us!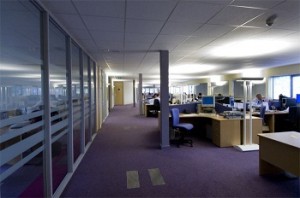 We are used to working with contracts and companies of all sized, and enjoy working with them all.  To give some examples of the range of  projects that we work on, our smallest contract for some small office works was around £500 and our largest project completed to date was for £250,000.
You can find out more about our travelling distances and where we work on our About page, these are indicative though so please contact us if you're outside them and we will let you know if we are able to help you.
Click on the green bars below to read about a few of our examples projects:
[wptabs type="accordion" mode="horizontal"] [wptabtitle]     Jaga Heating – An office refresh[/wptabtitle] [wptabcontent]Jaga Heating were looking to have a refresh of their offices carried out, so we supplied and fitted:
Armstrong Dune Supreme suspended ceilings.
New lighting.
Complete new decorations throughout their offices.
Hung new doors.
Installed a frameless glazed partition into an opening.
Fitted new carpet tiles throughout.
Hung numerous samples of their brilliant radiators on the walls.[/wptabcontent]
[wptabtitle]     Amey – Fit out of an existing industrial unit into new offices[/wptabtitle] [wptabcontent]We were the Principal Contractor managing the internal refurbishment converting an industrial store facility into new office space for Amey Consulting.  We managed the:
Drylining of the perimeter walls.
Installation a new suspended ceiling and fire break to the whole area.
Full electrical and data refit, including power poles and dado trunking.
New flooring.
Air conditioning and fresh air feed.
Decorations to the whole area.
Formed new openings in a shared wall to create an open plan feel with the adjacent office space.
Removed an electric roller shutter and installed a glazed screen.
Installed a new fire door with DDA compliant ramp.[/wptabcontent] [wptabtitle]     David Austin Roses – Fitting a steel framed building into offices[/wptabtitle]
[wptabcontent]We were the main interior fit out contractor on David Austin Roses new office block.  We arrived on site to an empty steel shell with a mezzanine floor, and proceeded to turn it into usable workable office space. Over the two floors we:
Drylined the exterior walls.
Installed various different styles of plasterboard partitioning to create solid, half glazed and fully glazed offices which we taped, filled and decorated.
Hung fire doors and fitted frames and linings.
Installed firewalls and cavity fire barrier.
Installed one hour fire rated suspended ceilings.
New air conditioning system to the office areas.
Installed new kitchens and tea points.
Fitted out toilets and washrooms with cubicles.[/wptabcontent] [wptabtitle]     Anchor Van Leasing – Fitting half of a new industrial unit into offices and workspace[/wptabtitle]
[wptabcontent]We worked for the main contractor on this project, turning a steel framed shell with a mezzanine floor into offices.  We installed:
A new one hour fire rated 146mm stud partition wall down the length of the warehouse to create an area suitable for offices one side, while the other area was prepared for an MOT bay.
We then proceeded to install new one hour suspended ceilings to both floors.
Installed numerous new solid partitions to create offices, kitchens, and toilet and shower areas.
We supplied and fitted one hours windows into the partition, and fit window sills to the exterior windows.[/wptabcontent] [wptabtitle]     GEA Denco – Fit out of GEA Denco new head office block[/wptabtitle]
[wptabcontent]We were part of the fit out of GEA Denco Ltd's new head offices, at Moreton near Hereford. We undertook a wide range of the internal aspects of the refurbishment, including the internal linings fit out works, with a strong team of fitters installing:
Drylining to perimeter walls.
Various different styles of partitions; solid, half glazed and fully glazed.  Forming offices, canteens, boardrooms, toilets and receptions areas.
Suspended ceilings throughout the whole building.
Floorings.[/wptabcontent] [wptabtitle]     Central Roofing – Formed new offices and a boardroom in their new offices[/wptabtitle]
[wptabcontent]When Central Roofing moved in new offices we help them with the interior fit out.  We installed:
Armstrong Microlook Dune suspended ceilings over two floors.
Various different styles of partition; solid, half-glazed and fully glazed with integral blinds to form offices and a board room.
Door hanging and small items of joinery work.[/wptabcontent] [wptabtitle]     Your company name?[/wptabtitle]
[wptabcontent]Contact Us today to find out how we can help you with an office fit out or refurbishment.[/wptabcontent] [/wptabs]